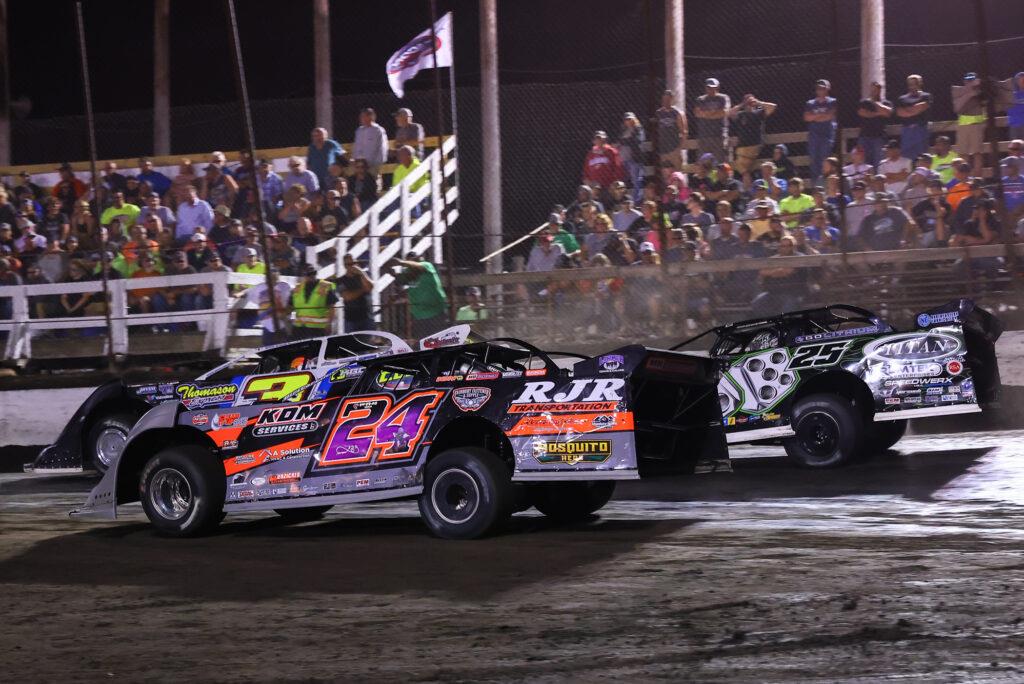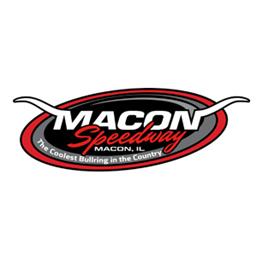 ---
Ryan Unzicker Wins Second Career Herald & Review 100
(Josh James Photo)
For the second time in his career and first in eight years, Ryan Unzicker is victorious in one of Illinois dirt track racing's most prestigious events – the Herald & Review 100.
Unzicker, the 2011 DIRTcar Late Model national points champion from El Paso, IL, won a late-race duel with Brian Shirley, retaking the lead for good on Lap 85 and holding off Shirley and Jason Feger to bank the $7,500 grand prize and his first win in the 100-lap event since 2015.
"It feels good, honestly," Unzicker said. "Macon's one of my favorite places. What better way to win at one of your favorite tracks. It races so well."
Unzicker took the green from third on the starting grid and stayed patient through the first half of the race, keeping pace with the leaders until it was time to strike. After getting by Feger for third after a Lap 63 restart, Unzicker got that chance as he continued to hammer the extreme bottom around the 1/5-mile oval.
"The car was just good enough to roll that bottom enough to where we weren't getting too tight, and we could hug that left-rear [tire] into the traction and shoot off there where some of the other guys couldn't," he said.
Unzicker pulled even with five-time event winner Shannon Babb and took the runner-up spot from him on Lap 68. Then, he set his sights on leader Brian Shirley, who had been in control since before the halfway point.
With a head of steam and plenty of traction on the bottom, Unzicker nipped Shirley at the start/finish line to take over the top spot on Lap 80. Shirley was pounding the cushion on the top side and took the lead back the next time around, but Unzicker was not done yet. He battled back on the inside and beat Shirley to the line to take the lead back on Lap 83.
Shirley retook it once more on Lap 84 but made significant contact with the outside wall in Turn 2 on Lap 85, scrubbing off major speed and allowing Unzicker to sneak past him on the bottom.
From there on out, it was all Unzicker out front. Even a last-laps push from Feger on the top side was not enough for another good bid for the lead as Unzicker cruised across the line to take the win.
"I knew somebody was there, but I didn't know it was Feger," Unzicker said. "I could hear him just a little bit. I went up there one time and was like, 'Oh boy, I better get back down.'"
UP NEXT
The DIRTcar Summer Nationals Late Models are back in action Friday, July 7 at Farmer City Raceway in Farmer City, IL. Tickets will be on sale at the gate; streaming is available at DIRTVision.com.
ABBREVIATED RESULTS (view full results)
Feature (100 Laps): 1. 24-Ryan Unzicker[3]; 2. 25-Jason Feger[2]; 3. 3S-Brian Shirley[9]; 4. 18-Shannon Babb[1]; 5. 1-BJ Robinson[5]; 6. 38J-Jake Little[8]; 7. 12-Ashton Winger[7]; 8. 4G-Bob Gardner[16]; 9. 44-Blaze Burwell[13]; 10. 51B-Brandon Carpenter[18]; 11. 9Z-Jayme Zider[11]; 12. 99-Jeff Larson[6]; 13. 31AUS-Kye Blight[12]; 14. 30-Mark Voigt[19]; 15. 15-Clayton Stuckey[15]; 16. 16-Rusty Griffaw[20]; 17. 6JR-Parker Martin[21]; 18. 5-Austin Vincent[10]; 19. 21B-Rich Bell[17]; 20. 91-Rusty Schlenk[4]; 21. 51-Dean Carpenter[14]; 22. 38-Thomas Hunziker[22]
---
Submitted By: Adam Mackey
Back to News