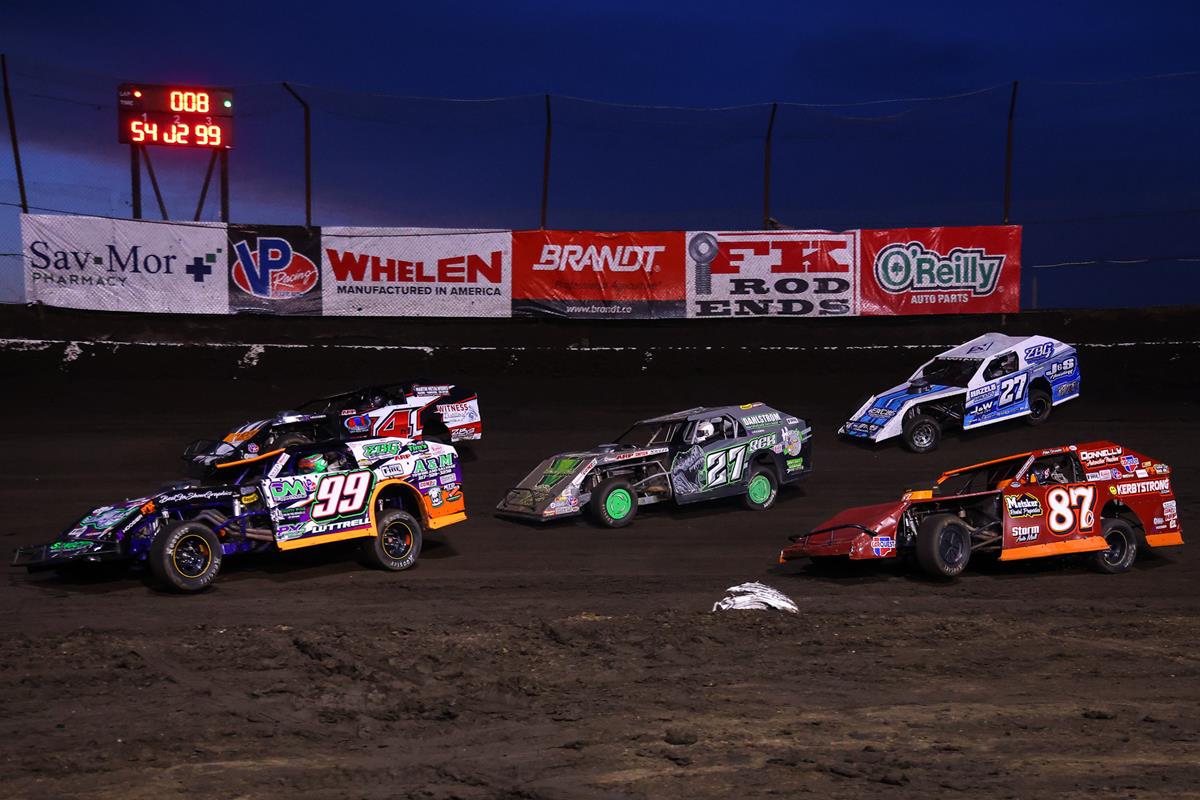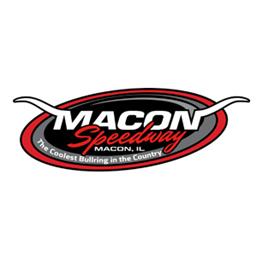 ---
Decatur Area CVB To Present 1st Responders Night At Macon Speedway Saturday
(Josh James Photo)
(Macon, IL) First responders throughout Central Illinois are in for a treat at Macon Speedway this coming Saturday, July 15. A full night of racing entertainment is on tap with free general admission tickets for first responders who can present valid ID proof. It's open to EMT's, paramedics, firefighters, and law enforcement officers. The night is presented by Decatur Area Convention & Visitors Bureau.
In addition to great racing action in six divisions, CEFCU Kids Club will be held between 5:30-7:00 in the pavilion next to the main scoring tower and kids will get the opportunity to ride in race cars at intermission.
Braden Johnson, of Taylorville, IL, leads the standings in the Decatur Building Trades DIRTcar Pro Late Model division, winning two of the six features so far this season. Ryan Miller is having a great season and is second in points, while Brandon Miller, Colby Eller, and Jose Parga complete the top five. Parga has claimed four feature wins but has missed two events.
In the Red's Place DIRTcar Modified class, Elwin, IL's Alan Crowder leads the points by 18 over Jeremy Nichols. Nichols has missed an event but has been strong in the other six to stay close. Each have claimed one feature win, while Tim Luttrell (2), Austin Lynn (1), and Jeff Graham complete the top five.
Dalton Ewing, of Decatur, IL, has a healthy point lead in the DIRTcar Pro Mod class, winning four of the seven features coming into Saturday's event. Adam Rhoades, Maxx Emerson, Zach Taylor, and Guy Taylor complete the top five. The two Taylors and Kyle Helmick have won the other feature events.
The elder statesman of the Sportsman class, Phil Moreland, currently leads the points in the division by six over Ed Cleeton. The two drivers are followed by Jeff Ray, Randy Huffman, and Tim Riech. None of the top five have claimed a feature win this season as Wes O'Dell has three, and Ethan Schnapp and Tommy Duncan have claimed one each.
In the DIRTcar Street Stock division, Bobby Beiler has won four out of the six features and has just an 18 point lead on Terry Reed. Jaret Duff is third, with Brad Peters and Brian Dasenbrock fourth and fifth. Rudy Zaragoza and Zane Reitz have also taken main event wins.
Rounding out Saturday's action will be the POWRi 600cc Non-Wing Outlaw division. Kale Drake, of Collinsville, OK leads the points over Alex Midkiff, Tyler Kuykendall, Corbin Rueschenberg, and Tobias Midkiff. The feature event will pay $700 to win.
Pit gates will open Saturday at 4:00, grandstands at 5:00, hotlaps start at 6:00, with racing at 7:00 PM. Grandstand admission will be $15, while kids 11 and under are free.
About Macon Speedway:
For more information, follow Macon Speedway online at www.maconracing.com, on Facebook (www.facebook.com/maconracing) and Twitter (@maconspeedway). Updates are also available by calling Macon Speedway at 217-764-3000.
Macon Speedway is located nine miles south of Decatur on U.S. 51, then 0.6 miles west on Andrews Street and south to 205 N. Wiles. Macon Speedway hosts racing every Saturday night, plus many specials including Lucas Oil Late Models, Summernationals, Corn Field Combat, and Top Gun.
Macon Speedway is a proud member of the Contingency Connection's $100,000 Racer Rewards Program.
CURRENT STANDINGS (Top 10's)
Decatur Building Trades Pro Late Models
Pos # First Name Last Name City State Races Wins Top 5 Top 10 Points Gap
1 14J Braden Johnson Taylorville IL 6 2 6 6 346 0
2 11 Ryan Miller Lincoln IL 6 0 5 6 318 28
3 9B Brandon Miller Lincoln IL 6 0 1 5 276 70
4 10C Colby Eller Taylorville IL 5 0 4 5 266 80
5 6P Jose Parga New Berlin IL 4 4 4 4 240 106
6 11E Randy Eller Taylorville IL 5 0 0 5 238 108
7 12 Curtis Eller Taylorville IL 4 0 3 4 220 126
8 64 Donny Koehler Macon IL 4 0 1 4 190 156
9 25 Dakota Ewing Warrensburg IL 3 0 2 2 154 192
10 77 Blaise Baker Clinton IL 2 0 2 2 112 234
Red's Place Modifieds
Pos # First Name Last Name City State Races Wins Top 5 Top 10 Points Gap
1 87C Alan Crowder Elwin IL 7 1 4 6 350 0
2 J24 Jeremy Nichols Findlay IL 6 1 5 6 332 18
3 99 Tim Luttrell Riverton IL 6 2 4 5 316 34
4 72A Austin Lynn Mason City IL 6 1 3 5 292 58
5 71 Jeff Graham Stonington IL 5 0 1 4 248 102
6 4G John Goveia Riverton IL 5 0 0 0 188 162
7 11 Zach Rhodes Taylorville IL 3 0 2 3 162 188
8 4M Clint Martin Ramsey IL 3 0 1 3 160 190
9 36 Nick Justice Decatur IL 3 0 2 3 154 196
10 28S Joe Strawkas Buffalo IL 4 0 0 2 146 204
DIRTcar Pro Mods
Pos # First Name Last Name City State Races Wins Top 5 Top 10 Points Gap
1 27 Dalton Ewing Decatur IL 7 4 5 7 384 0
2 10 Adam Rhoades Clinton IL 7 0 3 5 328 56
3 78 Maxx Emerson Taylorville IL 5 0 3 5 248 136
4 Z24 Zach Taylor Springfield IL 4 1 4 4 230 154
5 4T Guy Taylor Springfield IL 4 1 4 4 230 154
6 15C Kevin Crowder Argenta IL 5 0 2 3 228 156
7 8 Brayden Beiler Blue Mound IL 5 0 1 1 210 174
8 42 Chad Ziegler Oakwood IL 4 0 3 3 206 178
9 360 John Seets Brighton IL 4 0 2 3 190 194
10 7B Brian Burns Bethany IL 4 0 0 4 188 196
DIRTcar Sportsman
Pos # First Name Last Name City State Races Wins Top 5 Top 10 Points Gap
1 07 Phil Moreland Assumption IL 5 0 2 4 252 0
2 21 Ed Cleeton Tovey IL 5 0 3 4 246 6
3 18 Jeff Ray Springfield IL 5 0 3 4 242 10
4 46 Randy Huffman Maroa IL 4 0 4 4 224 28
5 55 Tim Riech Petersburg IL 5 0 1 4 224 28
6 17 Barry Bell Windsor IL 5 0 1 2 210 42
7 87 Wes O'Dell Springfield IL 4 3 3 3 206 46
8 75 Jeff Gill Bethany IL 5 0 0 1 200 52
9 11 Roy Magee Springfield IL 4 0 1 4 192 60
10 5S Ronald Bacon Decatur IL 5 0 0 2 188 64
DIRTcar Street Stocks
Pos # First Name Last Name City State Races Wins Top 5 Top 10 Points Gap
1 17 Bobby Beiler Blue Mound IL 6 4 5 5 336 0
2 11 Terry Reed Cerro Gordo IL 6 0 4 5 318 18
3 21 Jaret Duff Maroa IL 6 0 4 6 304 32
4 78B Brad Peters Stonington IL 6 0 3 5 296 40
5 08 Brian R. Dasenbrock Decatur IL 6 0 1 6 288 48
6 187 Korey Bailey Stonington IL 5 0 0 5 236 100
7 2Z Andy Zahnd White Heath IL 4 0 4 4 224 112
8 67 Rudy Zaragoza Jacksonville IL 4 1 3 3 206 130
9 4 Zach Clark Illiopolis IL 3 0 0 3 148 188
10 21E Eric Boomer Bethany IL 3 0 0 2 142 194
POWRi Non-Wing Micros
Pos Car Driver Hometown Wins Top 5 Top 10 Features Points Gap 1 26 Kale Drake Collinsville, OK 4 4 4 1130
2 11 Alex Midkiff
Belleville, IL 1 1 3 3 790
340
3 8K Tyler Kuykendall
Warsaw, MO 1 2 2 3 780
350
4 26 Corbin Rueschenberg
Mesa, AZ 1 2 3 640
490
5 101 Tobias Midkiff
Belleville, IL 3 540
590
6 96 Parker Leek
Warsaw, IN 1 2 2 530
600
7 94 Jordan Clary
Edwardsville, IL 1 2 2 490
640
8 20 Logan Null
Marion, IL 1 1 1 2 450
680
9 21H Dylan Kadous
Topeka, KS 1 1 1 290
840
10 17S Baron Silva
Bartlesville, OK 1 1 1 270
860
---
Submitted By: Adam Mackey
Back to News