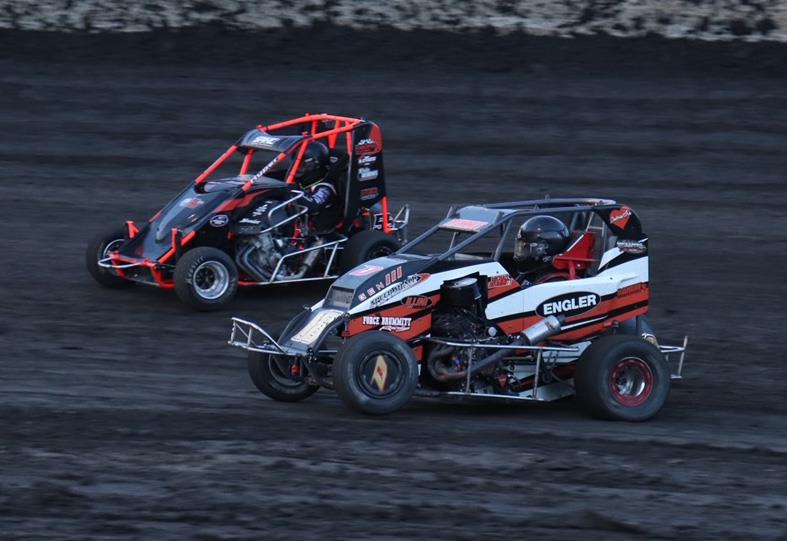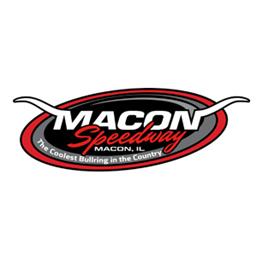 ---
POWRi Outlaw Non-Wing Micro League To Invade Macon Speedway Saturday
(Macon, IL) The edge-of-the-seat racing action continues this Saturday, April 15 when the first of many stand-alone events for the POWRi Outlaw Micro League presented by Engler Machine & Tool takes the track at Macon Speedway. The event, presented by Bailey Chassis Company, will see six divisions of action for the second night of the 2023 racing season at the Macon, IL bullring.
The POWRi Micros, which moved to a non-wing based league for the 2023 racing season, has had just one event this season. That event, held in March at Port City Raceway in Tulsa, OK, had a stellar field of 77 cars with Shawn Mahaffey winning at his hometown track.
For Macon, it's the second event of the 2023 racing season, under new ownership from the Kearns family. The season opener went extremely well with packed grandstands and nearly 100 cars pitside. The racing lived up to typical Macon Speedway expectations with cars racing the highside and lowside and even building up to a photo finish for the win in the Sportsman.
Jose Parga, of New Berlin, IL will lead the Decatur Building Trades Pro Late Models back to town on Saturday, looking to continue his great start to the season. Decatur, IL driver, Dalton Ewing, had a great first night in the DIRTcar Pro Mod class and leads the standings. Tommy Duncan sits atop the Weddle Performance Engines Sportsman points after winning by .004 over Phil Moreland in a photo finish. Zane Reitz leads the 51 Bistro Street Stocks, while Michael McKay is the Hornet point leader.
In addition to Saturday being Micros' first visit of the year, the Midwest Big 10 Street Stocks will be opening their season with a $500 to win / $75 to start feature event. It is the first of ten races for the series this year, racing at Macon, Lincoln, Taylorville, and Jacksonville Speedways.
Looking ahead to next week, the Lucas Oil Late Model Dirt Series will be racing at the 1/5-mile high banked dirt track, going for the $15,000 top prize. Shannon Babb, Jason Feger, and many of the Illinois favorites will take on Brandon Overton, Jonathan Davenport, Tim McCreadie, Ricky Thornton, Jr., Hudson O'Neal, and others. Reserved seating for that event is available online at maconracing.com.
This Saturday's times have pit gates opening at 3:00, grandstands at 4:00, hotlaps at 6:00, and racing at 7:00 PM. Grandstand admission is $15, while kids 11 and under are free.
About Macon Speedway:
For more information, follow Macon Speedway online at www.maconracing.com, on Facebook (www.facebook.com/maconracing) and Twitter (@maconspeedway). Updates are also available by calling Macon Speedway at 217-764-3000.
Macon Speedway is located nine miles south of Decatur on U.S. 51, then 0.6 miles west on Andrews Street and south to 205 N. Wiles. Macon Speedway hosts racing every Saturday night, plus many specials including Lucas Oil Late Models, Summernationals, Corn Field Combat, and Top Gun.
Macon Speedway is a proud member of the Contingency Connection's $100,000 Racer Rewards Program.
CURRENT MACON STANDINGS (Top 10's)
Decatur Building Trades Pro Late Models
Pos # First Name Last Name City State Races Wins Top 5 Top 10 Points
1 6P Jose Parga New Berlin IL 1 1 1 1 60
2 25 Dakota Ewing Warrensburg IL 1 0 1 1 58
3 14J Braden Johnson Taylorville IL 1 0 1 1 56
4 61 Jammie Wilson Hoopeston IL 1 0 1 1 54
5 10C Colby Eller Taylorville IL 1 0 1 1 52
6 11 Ryan Miller Lincoln IL 1 0 0 1 50
7 9B Brandon Miller Lincoln IL 1 0 0 1 48
8 64 Donny Koehler Macon IL 1 0 0 1 46
9 28 Justin Durbin Mulberry Grove IL 1 0 0 1 44
10 18CC Cameron Reynolds Farmer City IL 1 0 0 1 42
DIRTcar Pro Mods
Pos # First Name Last Name City State Races Wins Top 5 Top 10 Points
1 27 Dalton Ewing Decatur IL 1 1 1 1 60
2 37 Chad Ziegler Oakwood IL 1 0 1 1 58
3 8Z Zach Taylor Springfield IL 1 0 1 1 56
4 78 Maxx Emerson Taylorville IL 1 0 1 1 54
5 360 John Seets Brighton IL 1 0 1 1 52
6 79 Scott Dunlap Oblong IL 1 0 0 1 50
7 14 Brady Lynch Hillsboro IL 1 0 0 1 48
8 3J Jonathan Hall Decatur IL 1 0 0 1 46
9 7B Brian Burns Bethany IL 1 0 0 1 44
10 116 Kevin Rench Hillsboro IL 1 0 0 1 42
Weddle Performance Engines Sportsman
Pos # First Name Last Name City State Races Wins Top 5 Top 10 Points
1 32 Tommy Duncan Metamora IL 1 1 1 1 60
2 07 Phil Moreland Assumption IL 1 0 1 1 58
3 110 Landen Miller Tonica IL 1 0 1 1 56
4 21 Ed Cleeton Tovey IL 1 0 1 1 54
5 25 Dennis Vander Meersch Springfield IL 1 0 1 1 52
6 21 Jeff Ray Springfield IL 1 0 0 1 50
7 61 Stefan Bedinger Taylorville IL 1 0 0 1 48
8 11 Roy Magee Springfield IL 1 0 0 1 46
9 84L Jim Farley III Springfield IL 1 0 0 1 44
10 5S Ronald Bacon Decatur IL 1 0 0 1 42
51 Bistro Street Stocks
Pos # First Name Last Name City State Races Wins Top 5 Top 10 Points
1 55 Zane Reitz Veedersburg IN 1 1 1 1 60
2 K67JR Braiden Keller West Lebanon IN 1 0 1 1 58
3 11 Terry Reed Cerro Gordo IL 1 0 1 1 56
4 14 Megan Erwin Attica IN 1 0 1 1 54
5 21 Jaret Duff Maroa IL 1 0 1 1 52
6 4 Zach Clark Illiopolis IL 1 0 0 1 50
7 08 Brian R. Dasenbrock Decatur IL 1 0 0 1 48
8 78B Brad Peters Stonington IL 1 0 0 1 46
9 T5 Gene Reed Hammond IL 1 0 0 1 44
10 73 Todd Musick Assumption IL 1 0 0 1 42
DIRTcar Hornets
Pos # First Name Last Name City State Races Wins Top 5 Top 10 Points
1 26A Michael McKay Springfield IL 1 1 1 1 60
2 37 Lukas Robison Sullivan IL 1 0 1 1 58
3 357 Billy Mason Brownstown IL 1 0 1 1 56
4 95Q Tristin Quinlan Decatur IL 1 0 1 1 54
5 7 John Bright Long Creek IL 1 0 1 1 52
6 20B Bridget Fulton Marissa IL 1 0 0 1 50
7 11 Collin Reed Decatur IL 1 0 0 1 48
8 41 Jaekob Durbin Ramsey IL 1 0 0 1 46
9 37M Cole Martz Findlay IL 1 0 0 1 44
---
Submitted By: Adam Mackey
Back to News