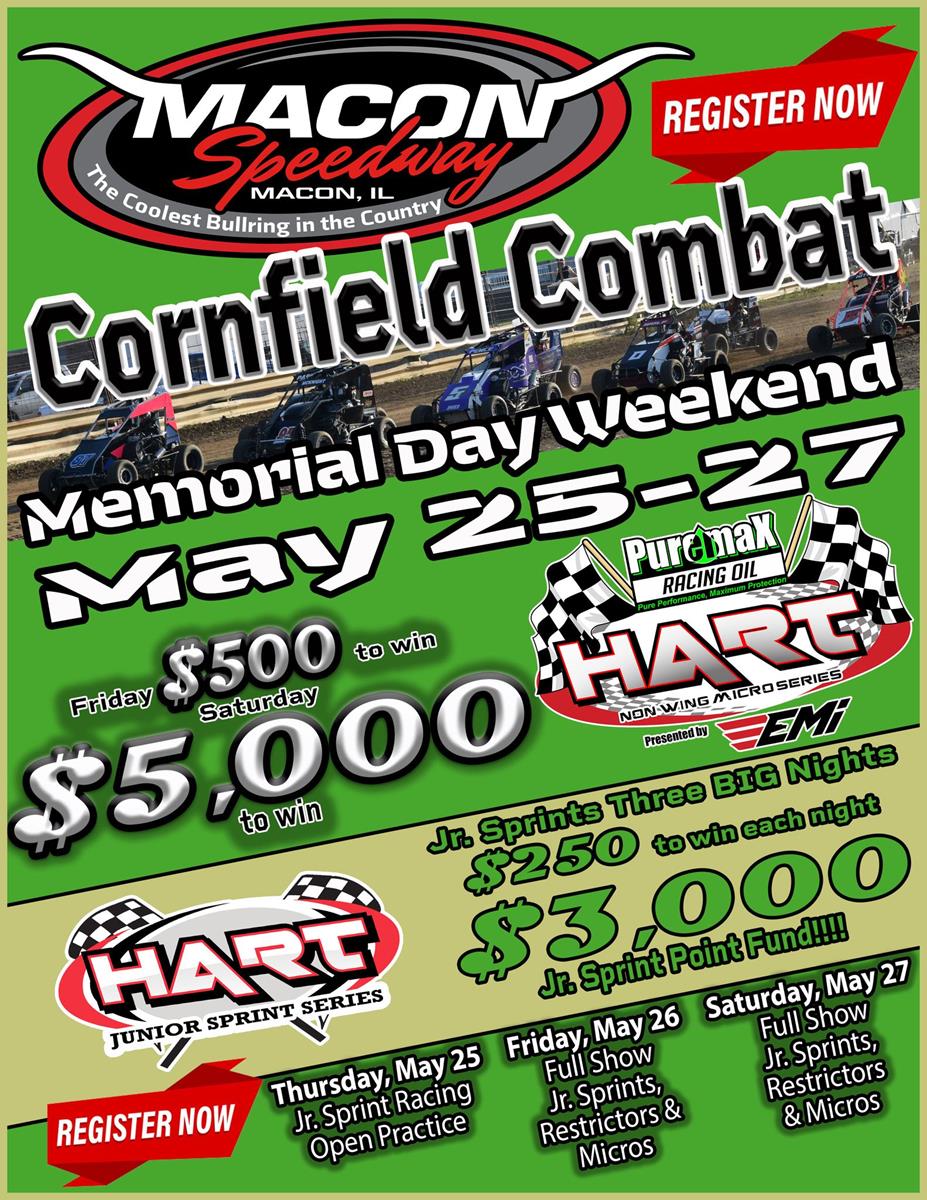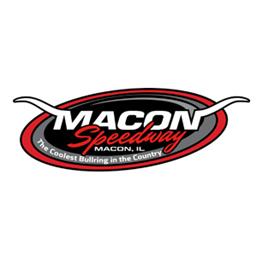 ---
Macon Speedway Cornfield Combat Friday Night Results
(Macon, IL) The Macon Speedway pits were packed for night #2 of Cornfield Combat featuring the PureMax Racing Oil HART Non-Wing Micros, Restricted Micros, and Junior Sprints.
Tulsa, OK driver Frank Flud claimed the victory in the HART Non-Wing Micros, besting a field of 63 entries. Braxton Flatt was the winner in the Junior Sprint class, while 9-year old Eli Holden claimed the Restricted Micro win.
Next up will be "Cornfield Combat" night #3 Saturday, May 26 with HART NW Micros $5k to win, plus more Junior Sprint and Restricted Micro action. The Memorial Day Twin 50's are coming up this Monday, May 29 with Big Ten TOPLESS Mods and Pro Lates plus Pro Mods, Sportsman, Street Stocks, and Hornets.
For more information, visit maconracing.com.
HART Non-Wing Micros 63 Entries
A Feature 1 20 Laps | 00:16:47.936
81-Frank Flud[1]; 2. 1V-Johnny Boland[4]; 3. 82S-Austin Saunders[6]; 4. 97D-JB Gilbert[5]; 5. 25-Kyle Spence[14]; 6. 11-Alex Midkiff[12]; 7. 15-TJ Smith[8]; 8. 35-Tyler Robbins[10]; 9. 37-Aiden Purdue[13]; 10. 33D-Daniel Robinson[17]; 11. 29S-Stone Sharpe[20]; 12. 71C-Jake Cheatham[7]; 13. 20-Logan Null[18]; 14. 43-Parker Perry[19]; 15. 12M-Austin Schaeffer[11]; 16. (DNF) 93-Matt Carr[9]; 17. (DNF) 72H-Hunter Pruitt[16]; 18. (DNF) 21-Aaron Andruskevitch[15]; 19. (DNF) 12K-Dylan Kadous[2]; 20. (DNF) 71-Jaxton Wiggs[3]
Heat 1 10 Laps | 00:07:55.739
35-Tyler Robbins[4]; 2. 71-Jaxton Wiggs[9]; 3. 61-Noah Bellew[8]; 4. 72H-Hunter Pruitt[7]; 5. 126Z-Zak Gorski[1]; 6. (DNF) 74X-Caleb Edington[2]; 7. (DNF) 16-Brian Jones[6]; 8. (DNF) 94-Jordan Clary[5]; 9. (DNF) 17-Molly Day[3]
Heat 2 10 Laps | 00:07:00.269
11-Alex Midkiff[1]; 2. 93-Matt Carr[3]; 3. 12M-Austin Schaeffer[4]; 4. 16W-Hunter Walker[8]; 5. 40S-Dawson Stealy[2]; 6. 20X-Tayler Hungate[5]; 7. 12-Jeffrey Newell[9]; 8. (DNF) 18-Aidan Leingang[7]; 9. (DNS) 10-Ryan Criswell
Heat 3 10 Laps | 00:02:53.405
1V-Johnny Boland[1]; 2. 12K-Dylan Kadous[8]; 3. 5X-Reed Whitney[3]; 4. 25B-Chevy Boyer[4]; 5. 20-Logan Null[9]; 6. 4R-Kameron Romack[2]; 7. 126-Autumn Criste[6]; 8. 7B-Jay Tindal[7]; 9. 00-Joe Taft[5]
Heat 4 10 Laps | 00:04:19.626
66-Jason McDougal[1]; 2. 82S-Austin Saunders[5]; 3. 71C-Jake Cheatham[9]; 4. 43-Parker Perry[4]; 5. 4-Wyatt Walters[2]; 6. 96-Alex Burgener[6]; 7. 7F-Nolan Bartley[8]; 8. 101-Tobias Midkiff[7]; 9. (DNF) 32K-Kyran Keith[3]
Heat 5 10 Laps | 00:04:11.961
15-TJ Smith[2]; 2. 97D-JB Gilbert[4]; 3. 25-Kyle Spence[3]; 4. 24-Weston Berner[6]; 5. 21-Aaron Andruskevitch[5]; 6. 14G-Madelyn Gjerness[7]; 7. 44S-Jacob Stewart[8]; 8. (DNF) 68-Landon Ellis[1]; 9. (DNF) 21M-Matt Morton[9]
Heat 6 10 Laps | 00:07:05.711
1E-Eric Braundmeier[1]; 2. 55S-Daryn Stark[3]; 3. 45-Camden Winter[6]; 4. 22-Kole Kirkman[7]; 5. 33D-Daniel Robinson[8]; 6. 11K-Shawn Mahaffey[2]; 7. 25R-Nathan Rector[9]; 8. 47-Caleb Shietze[5]; 9. (DNF) 55H-Hayden Harvey[4]
Heat 7 10 Laps | 00:03:48.989
81-Frank Flud[4]; 2. 37-Aiden Purdue[2]; 3. 5-Cale Coons[3]; 4. 29S-Stone Sharpe[5]; 5. 40-Devin Feger[7]; 6. 2TK-Todd Kirkman[8]; 7. 7K-Kenton Brewer[9]; 8. K24-Kade Ballinger[1]; 9. 86-Kyle Touchette[6]
Heat 8 10 Laps | 00:02:59.462
71-Jaxton Wiggs[1]; 2. 72H-Hunter Pruitt[3]; 3. 94-Jordan Clary[5]; 4. 35-Tyler Robbins[6]; 5. 61-Noah Bellew[2]; 6. 126Z-Zak Gorski[9]; 7. 17-Molly Day[7]; 8. 74X-Caleb Edington[8]; 9. (DNF) 16-Brian Jones[4]
Heat 9 10 Laps | 00:03:42.388
12-Jeffrey Newell[1]; 2. 12M-Austin Schaeffer[6]; 3. 93-Matt Carr[7]; 4. 20X-Tayler Hungate[5]; 5. 11-Alex Midkiff[9]; 6. 16W-Hunter Walker[2]; 7. 40S-Dawson Stealy[8]; 8. (DNS) 18-Aidan Leingang; 9. (DNS) 10-Ryan Criswell
Heat 10 10 Laps | 00:03:33.371
12K-Dylan Kadous[2]; 2. 20-Logan Null[1]; 3. 1V-Johnny Boland[9]; 4. 126-Autumn Criste[4]; 5. 5X-Reed Whitney[7]; 6. 25B-Chevy Boyer[6]; 7. 4R-Kameron Romack[8]; 8. 7B-Jay Tindal[3]; 9. 00-Joe Taft[5]
Heat 11 10 Laps | 00:04:44.745
71C-Jake Cheatham[1]; 2. 82S-Austin Saunders[5]; 3. 43-Parker Perry[6]; 4. 4-Wyatt Walters[8]; 5. 96-Alex Burgener[4]; 6. 7F-Nolan Bartley[2]; 7. 32K-Kyran Keith[7]; 8. 101-Tobias Midkiff[3]; 9. (DNF) 66-Jason McDougal[9]
Heat 12 10 Laps | 00:04:31.224
21-Aaron Andruskevitch[5]; 2. 97D-JB Gilbert[6]; 3. 25-Kyle Spence[7]; 4. 15-TJ Smith[8]; 5. 14G-Madelyn Gjerness[3]; 6. (DNF) 44S-Jacob Stewart[2]; 7. (DNF) 21M-Matt Morton[1]; 8. (DNF) 24-Weston Berner[4]; 9. (DNS) 68-Landon Ellis
Heat 13 10 Laps | 00:04:26.857
33D-Daniel Robinson[2]; 2. 25R-Nathan Rector[1]; 3. 47-Caleb Shietze[5]; 4. 22-Kole Kirkman[3]; 5. 45-Camden Winter[4]; 6. 55S-Daryn Stark[7]; 7. 55H-Hayden Harvey[6]; 8. 1E-Eric Braundmeier[9]; 9. (DNS) 11K-Shawn Mahaffey
Heat 14 10 Laps | 00:02:22.793
81-Frank Flud[6]; 2. 2TK-Todd Kirkman[2]; 3. 29S-Stone Sharpe[5]; 4. 37-Aiden Purdue[8]; 5. 40-Devin Feger[3]; 6. 5-Cale Coons[7]; 7. 7K-Kenton Brewer[1]; 8. 86-Kyle Touchette[4]; 9. (DNS) K24-Kade Ballinger
Junior Sprints 20 Entries
A Feature 1 15 Laps | 00:24:37.879
81-Braxton Flatt[4]; 2. 5-Kaden Wells[8]; 3. 7M-Miken Iverson[6]; 4. 9C-Grayson Cooksey[5]; 5. 28K-McKenna Kren[13]; 6. 95G-Gunner Griffin[14]; 7. 1N-Noah Betts[15]; 8. 2V-mason vincent[1]; 9. 17C-Willow Coleman[12]; 10. 88A-AJ Williams[17]; 11. 2-Aj Barber[16]; 12. 1-Paxton Perry[19]; 13. 22D-Dalton Clary[2]; 14. 5B-Evan Boyd[9]; 15. 18G-Gentry Shelton[18]; 16. 95-Lane Wells[20]; 17. (DNF) 5E-Eli Holden[3]; 18. (DNF) 17-Cole Jones[11]; 19. (DNF) 12C-Bella Coleman[10]; 20. (DNF) 71-Jagger Wiggs[7]
Heat 1 6 Laps | 00:01:42.973
22D-Dalton Clary[1]; 2. 2V-mason vincent[3]; 3. 5-Kaden Wells[4]; 4. 17-Cole Jones[2]; 5. 95G-Gunner Griffin[5]; 6. 2-Aj Barber[6]; 7. 1-Paxton Perry[7]
Heat 2 6 Laps | 00:01:38.815
9C-Grayson Cooksey[5]; 2. 7M-Miken Iverson[3]; 3. 5B-Evan Boyd[1]; 4. 17C-Willow Coleman[2]; 5. 12C-Bella Coleman[6]; 6. 18G-Gentry Shelton[4]; 7. 95-Lane Wells[7]
Heat 3 6 Laps | 00:01:41.670
81-Braxton Flatt[3]; 2. 5E-Eli Holden[4]; 3. 71-Jagger Wiggs[5]; 4. 28K-McKenna Kren[2]; 5. 1N-Noah Betts[1]; 6. 88A-AJ Williams[6]
Restricted Winged Micros 13 Entries
A Feature 1 15 Laps | 00:05:38.266
5E-Eli Holden[3]; 2. 8J-JJ Williams[2]; 3. 87C-Callan Hill[1]; 4. 103-Caden Tolliver[5]; 5. 21C-Chase Kosmatka[4]; 6. 71-Jagger Wiggs[7]; 7. 3E-Bodee Everett[6]; 8. 9C-Jace Cooksey[9]; 9. 1K-Mackenzie Dowllar[12]; 10. 9-Cole Bennett[11]; 11. 82H-Tucker Pruitt[8]; 12. (DNF) 16-Noah Britton[10]; 13. (DNS) 12C-Bella Coleman
Heat 1 8 Laps | 00:02:46.869
5E-Eli Holden[3]; 2. 8J-JJ Williams[4]; 3. 82H-Tucker Pruitt[1]; 4. 3E-Bodee Everett[5]; 5. 9C-Jace Cooksey[7]; 6. 1K-Mackenzie Dowllar[2]; 7. (DNF) 12C-Bella Coleman[6]
Heat 2 8 Laps | 00:02:08.693
87C-Callan Hill[1]; 2. 21C-Chase Kosmatka[2]; 3. 103-Caden Tolliver[3]; 4. 71-Jagger Wiggs[5]; 5. 16-Noah Britton[4]; 6. 9-Cole Bennett[6]
---
Submitted By: Adam Mackey
Back to News