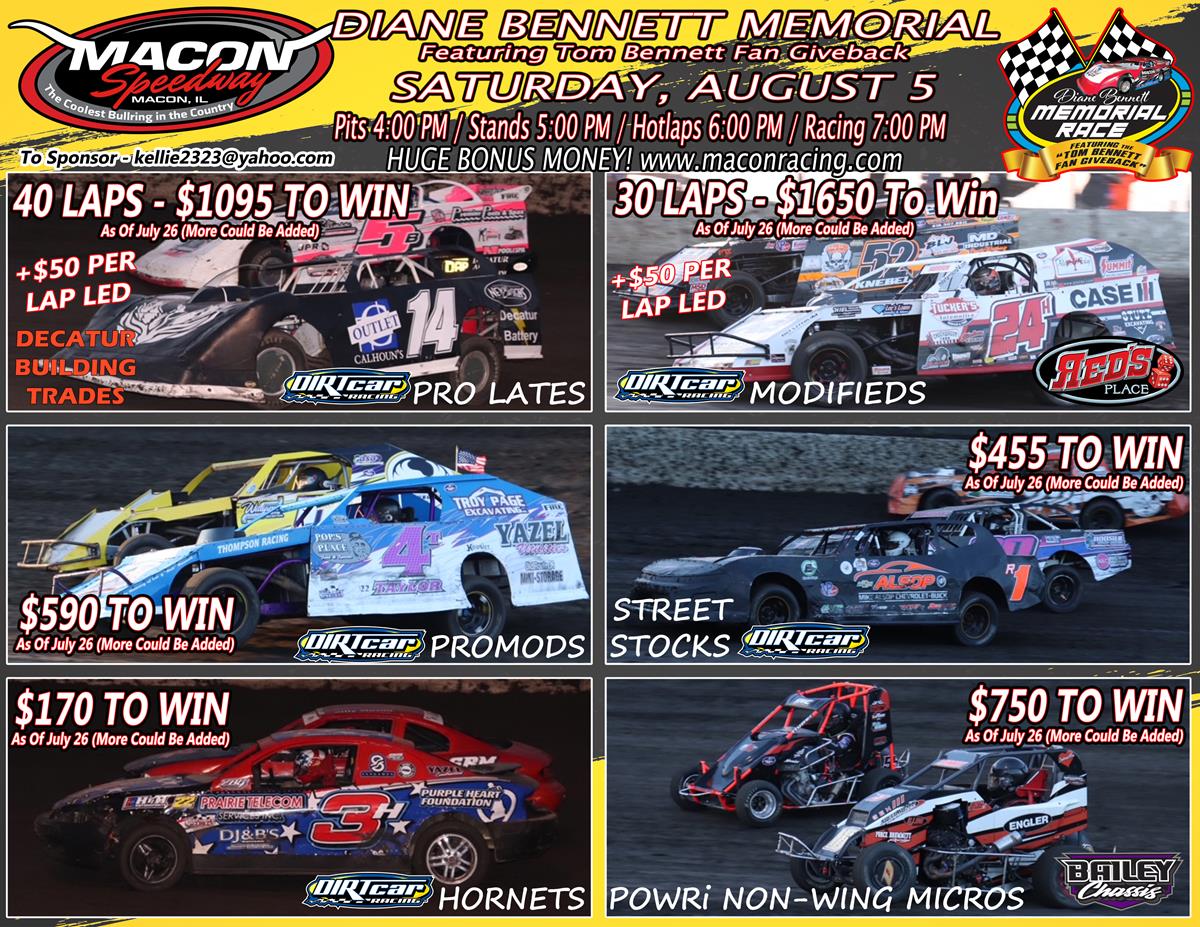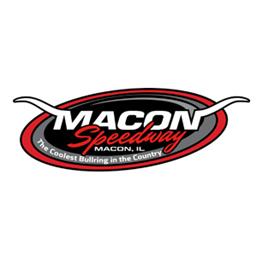 ---
Big Money On The Line August 5 At Macon Speedway
BIG EVENT COMING NEXT WEEK (Saturday, August 5)!! It's the return of the Diane Bennett Memorial Race Featuring The "Tom Bennett Fan Giveback". This year, in addition to the position bonus money for each spot, Pro Lates and Mods will be racing for an additional $50 per lap led, a total of $2,000 for Pro Lates and $1500 for Mods. The laps are ALL sponsored but position sponsorships remain. To add to the awesome totals and support this great event, reach out to Kellie at kellie2323@yahoo.com. Details below...
DECATUR BUILDING TRADES PRO LATE MODEL FAST QUALIFIER
$200 Blake's Lawn & Landscape, Snow Removal- Blake, Kaeley and Haven.
DECATUR BUILDING TRADES PRO LATE MODEL LAP SPONSORS
A-1 Tree Care - In Memory Of Billy Tucker
Dirt Dreams Trucking
1 Sharp Image - Krystal Bennett
J & S Hauling - Steve Ewing
Rockett Bennett
JLP Concrete
Skip & Peggy Hatch
Dan & Terri Moore
Carolyn Johnson-Carter & Family
J & S Hauling - Steve Ewing
Bobby Bennett
Brenda Bennett
Jerry & Cindy Stiger
Tipp's B.S. - Kristy Tippit
JR - 115 Motorsports #BabyLoki115
Cindy Dick
Victory Tree Service
Keep Fighting Frank Benton & Family
B & L Maintenance
Pam Bennett & Young Family
Sheppard Motorsports - Colby Sheppard
What Up Dog #22
Butch Garner & Family, In Memory Of Ruthie
Atlas Lock Shop
J & S Hauling - Steve Ewing
Mulligan's Towing
J & S Hauling - Steve Ewing
Rodney Standerfer
Blake's Lawn & Landscape, Snow Removal- Blake, Kaeley and Haven
Allgaier Performance Parts & Allgaier Racing Shocks
J & S Hauling - Steve Ewing
Kathy Billingsley
Storm Beiler Racing
Mulligan's Towing
Greg's Towing - "We pay top cash for junk cars"
Atlas Lock Shop
Campbell Trucking - Jackie Campbell
Mulligan's Towing
In Memory of Tommy and Diane Bennett - Denise Bennett
Steve Bennett
RED'S PLACE MODIFIED LAP SPONSORS
A-1 Tree Care - In Memory Of Ronnie Tucker
Dirt Dreams Trucking
1 Sharp Image - Krystal Bennett
In Memory of Tommy and Diane Bennett - Denise Bennett
#KirbyYourCarGuy @ Alsop Chevrolet
Greg's Towing - "We pay top cash for junk cars"
Skip & Peggy Hatch
Jeff Ensign Sr.
Tim's Auto Repair & More - Tim Luttrell
Marty Hiser
1 Sharp Image Salon - Candi Kincaid Allen
Mulligan's Towing
Storm Beiler Racing
Victory Tree Service
Aggressive Business Dynamics
Thomas Billingsley
Ryan Hamilton Racing
Cato & Forrest Wayne
Mulligan's Towing
South Shores Auto
Leka Tree Service
Jerry & Kelly Myers
Butch Garner & Family, In Memory Of Ruthie
In Memory Of Rodney Morey - Crystal Henderson
Kallenbach Farms - In Memory Of Robin
Mulligan's Towing
Sherrie Bennett Syfert
Rodney Standerfer
Beiler Construction
Allgaier Performance Parts & Allgaier Racing Shocks
FEATURE FINISHING POSITION SPONSORS
DECATUR BUILDING TRADES PRO LATE MODEL
In Memory Of Tom & Diane Bennett - $250
Mulligan's Towing - $100
South Shores Auto - $100
Victory Tree Service - $25
Brinkley Racing - Jeff Brinkley - $20
In Memory Of Tom & Diane Bennett - $150
In Memory Of Tom & Diane Bennett - $100
In Memory Of Tom & Diane Bennett - $75
In Memory Of Tom & Diane Bennett - $50
In Memory Of Tom & Diane Bennett - $25
In Memory Of Tom & Diane Bennett - $25
Judy Lofland - $10
In Memory Of Tom & Diane Bennett - $25
In Memory Of Tom & Diane Bennett -$25
In Memory Of Tom & Diane Bennett - $25
Mulligan's Towing - $25
Mulligan's Towing - $25
Megan Barnes & Ryan Likins - $10
Mulligan's Towing - $25
Mulligan's Towing - $25
FEATURE FINISHING POSITION SPONSORS
RED'S PLACE MODIFIED
Bill Reedy - $650
In Memory Of Tom & Diane Bennett - $250
Mulligan's Towing - $125
South Shores Auto - $100
Victory Tree Service - $25
In Memory Of Tom & Diane Bennett - $150
In Memory Of Tom & Diane Bennett - $100
In Memory of Tommy and Diane Bennett - Denise Bennett -$25
In Memory Of Tom & Diane Bennett - $75
In Memory Of Tom & Diane Bennett - $50
In Memory Of Tom & Diane Bennett - $25
In Memory Of Tom & Diane Bennett - $25
In Memory Of Tom & Diane Bennett - $25
In Memory Of Tom & Diane Bennett - $25
In Memory Of Tom & Diane Bennett - $25
Kallenbach Farms - $25
Mulligan's Towing - $25
Megan Barnes & Ryan Likins - $10
Mulligan's Towing - $25
Mulligan's Towing - $25
Rich Webb - $200 to the last place running Modified
FEATURE FINISHING POSITION SPONSORS
PRO MODIFIED
Slots and Slices - KRT - Billy Knebel - $100
South Shores Auto - $100
Storm Beiler Racing - $25
Victory Tree Service- $25
Brinkley Racing - $20
Rench Trucking - $20
Slots and Slices - KRT - Billy Knebel - $25
Taylor Brothers Towing & Salvage- $20
Rench Trucking - $20
Jonathon Hall Racing - $30
Slots and Slices - KRT - Billy Knebel - $25
Rench Trucking - $20
Slots and Slices - KRT - Billy Knebel - $25
Taylor Brothers Towing & Salvage- $20
Rench Trucking - $20
In Memory Of Fast Joe Reed - $50
In Memory of Tommy and Diane Bennett - Denise Bennett -$25
Slots and Slices - KRT - Billy Knebel - $25
Rench Trucking - $20
Taylor Brothers Towing & Salvage- $20
Rench Trucking - $20
Burns Racing - $50
Rench Trucking - $20
Taylor Brothers Towing & Salvage- $20
Rench Trucking - $20
Rench Trucking - $20
O'Neill Racing - $25
Taylor Brothers Towing & Salvage- $20
Rench Trucking - $20
In Memory Of Tom & Diane Bennett - Bobby & Brenda Bennett - $25
In Memory Of Tom & Diane Bennett - Bobby & Brenda Bennett - $25
Megan Barnes & Ryan Likins - $10
In Memory Of Art & Pat Lynch- Jason Williamson- $25
In Memory Of Tom & Diane Bennett - Bobby & Brenda Bennett - $25
FEATURE FINISHING POSITION SPONSORS
STREET STOCKS
South Shores Auto - $100
Bud and Elaine Cripe - $30
Storm Beiler Racing - $25
Zahnd Farms - $50
Deb Galka Zehnacker - $25
Dee Suddarth Colbert - $20
Zahnd Farms - $50
Dee Suddarth Colbert - $20
Dasenbrock Motorsports - $25
Dee Suddarth Colbert - $20
Dasenbrock Motorsports - $25
In Memory Of Papa Tommy - Bailey Bennett - $15
In Memory Of Papa Tommy - Bailey Bennett - $15
Jennifer Billingsley - $50
Judy Lofland - $10
Margret Bennett - $50
Chuck & Kyra Carlson - $10
Jeff & Jessica Gill - $50
FEATURE FINISHING POSITION SPONSORS
POWRi MICROS
In Memory Of Steve Gant - Shelby Gant - $50
Jake & Kelly McCammack - $50
Camden Gardner Racing - $20
Kathy Buzz Wyer - $50
FEATURE FINISHING POSITION SPONSORS
HORNETS
Reedy Family Farms - $50
Casey Eskew and Family- $20
Ana Robinson- $15
Casey Eskew and Family- $20
Casey Eskew and Family- $20
---
Submitted By: Adam Mackey
Back to News