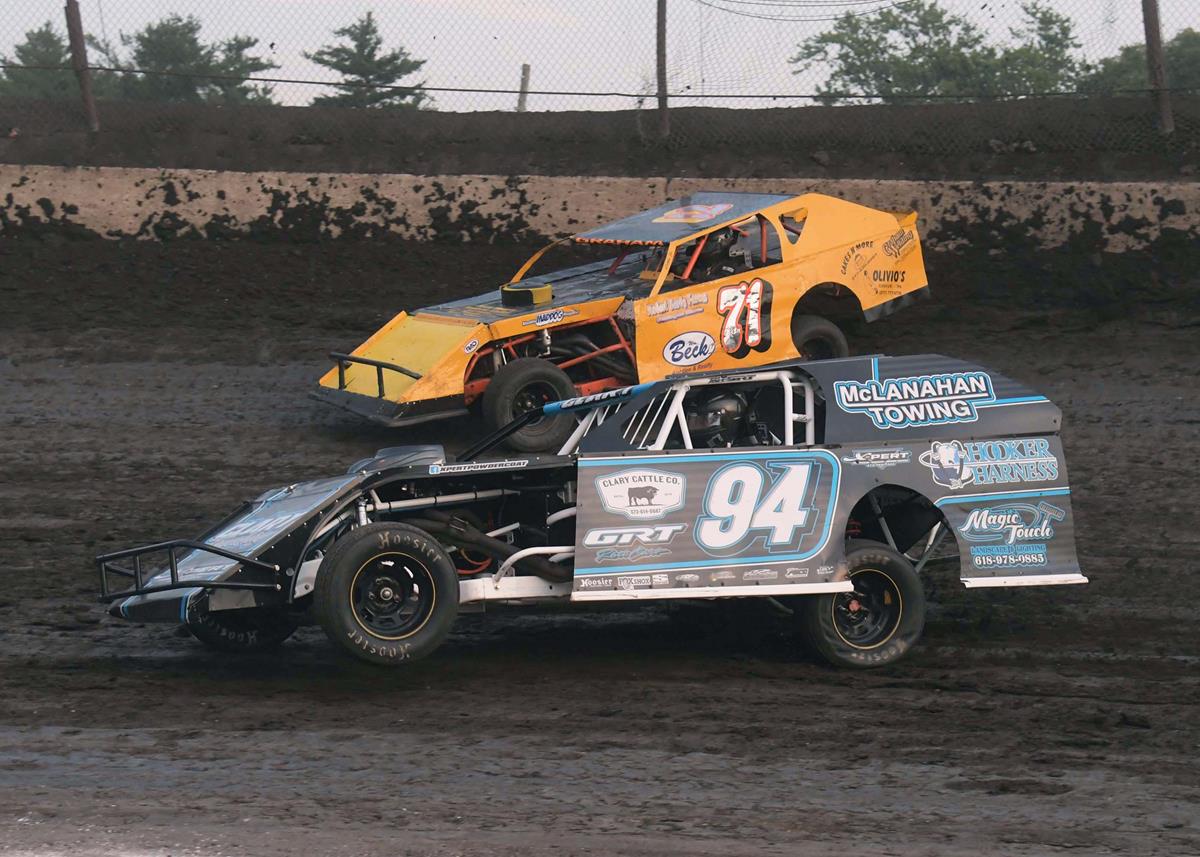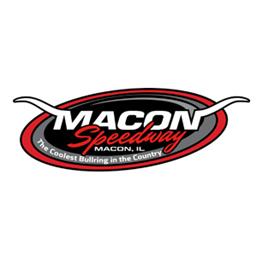 ---
9th Annual KerbyStrong Foundation Race This Saturday At Macon Speedway
(Macon, IL) The ninth annual KerbyStrong will be held Saturday, Sept. 16 at Macon Speedway, Macon, IL. Hotlaps start at 6 p.m. with racing at 7 p.m. Decatur Building Trades Big 10 Pro Late Models, Red's Place Big 10 Modifieds, and Weddle Performance Engines Sportsman will have special events with extra pay. Three other divisions will also race.
This annual fundraiser is held in memory of Kerby Damery, a highly respected, competitive driver who enjoyed life and racing in his hometown track at Macon Speedway. In 2007 at age 42, Kerby was diagnosed with stage 4 appendix cancer. He fought valiantly for eight years and on Feb. 8, 2015, he won the checkered flag of life.
In his memory, a registered 501(c) (3) charitable Foundation was created with proceeds to benefit local cancer patients who need help with transportation, prescriptions, medical equipment, or any other need(s) as deemed necessary.
"The mission of the KerbyStrong Foundation is to inspire others to never give up, provide education about cancer screenings and provide support for cancer patients and their families," says Nikki Damery, Kerby Damery's widow, and Executive Director of the KerbyStrong Foundation. "This Saturday night, our Annual KerbyStrong race helps us to remember Kerby and his orange and blue late model car #10 – his passion to always give back to help others."
This year's KerbyStrong gold sponsors: Macon Speedway, Cancer Care Specialists of Illinois, Decatur Memorial Foundation, Phoenix Tile Distributors, Inc., Operators Union 965, the Hayes Family, and Damery Brother Motorsports. Other sponsors include Illini Pharmacy, Dynagraphics, McLeod Trucking, Green Hyundai, Decatur Battery, Carpenters Local 270, as well as many in-kind donations.
Joining the Pro Lates, Mods, and Sportsman will be the PureMax Racing Oil HART Non-Wing Micros, DIRTcar Hornets, and DIRTcar Pro Mods. Not only will fans be watching the tight battles to the checkered, the track, regional, national, and Big 10 point battles are down to the final couple of weeks.
Grandstand admission for Saturday's race is just $15 per person, while kids 11 and under are free. Pit gates open at 4:00 PM, grandstands at 5:00, hotlaps begin at 6:00, and racing is at 7:00.
About Macon Speedway:
For more information, follow Macon Speedway online at www.maconracing.com, on Facebook (www.facebook.com/maconracing) and Twitter (@maconspeedway). Updates are also available by calling Macon Speedway at 217-764-3000.
Macon Speedway is located nine miles south of Decatur on U.S. 51, then 0.6 miles west on Andrews Street and south to 205 N. Wiles. Macon Speedway hosts racing every Saturday night, plus many specials including Lucas Oil Late Models, Summernationals, Corn Field Combat, and Top Gun.
Macon Speedway is a proud member of the Contingency Connection's $100,000 Racer Rewards Program.
CURRENT STANDINGS (Top 10's)
Decatur Building Trades Pro Late Models
Pos # First Name Last Name City State Races Wins Top 5 Top 10 Points Gap
1 14J Braden Johnson Taylorville IL 9 3 9 9 520 0
2 11 Ryan Miller Lincoln IL 9 0 8 9 482 38
3 11E Randy Eller Taylorville IL 7 0 1 7 332 188
4 9B Brandon Miller Lincoln IL 7 0 2 6 330 190
5 12 Curtis Eller Taylorville IL 6 0 4 6 318 202
6 6P Jose Parga New Berlin IL 5 5 5 5 300 220
7 25 Dakota Ewing Warrensburg IL 5 1 4 4 272 248
8 10C Colby Eller Taylorville IL 5 0 4 5 266 254
9 64 Donny Koehler Macon IL 5 0 2 5 242 278
10 77 Blaise Baker Clinton IL 3 0 3 3 166 354
Red's Place DIRTcar Modifieds
Pos # First Name Last Name City State Races Wins Top 5 Top 10 Points Gap
1 99 Tim Luttrell Riverton IL 10 4 8 9 550 0
2 J24 Jeremy Nichols Findlay IL 10 3 8 9 550 0
3 87C Alan Crowder Elwin IL 11 1 5 10 540 10
4 71 Jeff Graham Stonington IL 9 0 1 8 428 122
5 72A Austin Lynn Mason City IL 8 1 5 7 406 144
6 28S Joe Strawkas Buffalo IL 8 0 1 5 324 226
7 4G John Goveia Riverton IL 7 0 0 1 278 272
8 11 Zach Rhodes Taylorville IL 5 0 4 5 268 282
9 4M Clint Martin Ramsey IL 5 0 2 4 258 292
10 36 Nick Justice Decatur IL 5 0 2 5 254 296
Weddle Performance Engines Sportsman
Pos # First Name Last Name City State Races Wins Top 5 Top 10 Points Gap
1 21 Ed Cleeton Tovey IL 8 0 5 6 390 0
2 87 Wes O'Dell Springfield IL 7 5 6 6 384 6
3 46 Randy Huffman Maroa IL 7 0 6 7 384 6
4 18 Jeff Ray Springfield IL 8 0 4 6 384 6
5 07 Phil Moreland Assumption IL 8 0 3 5 376 14
6 55 Tim Riech Petersburg IL 8 0 2 6 354 36
7 17 Barry Bell Windsor IL 8 0 1 4 336 54
8 75 Jeff Gill Bethany IL 8 0 0 2 326 64
9 11 Roy Magee Springfield IL 7 0 1 6 324 66
10 5S Ronald Bacon Decatur IL 8 0 0 3 294 96
DIRTcar Pro Mods
Pos # First Name Last Name City State Races Wins Top 5 Top 10 Points Gap
1 27 Dalton Ewing Decatur IL 10 5 8 10 552 0
2 10 Adam Rhoades Clinton IL 10 0 5 8 476 76
3 78 Maxx Emerson Taylorville IL 8 0 6 8 418 134
4 4T Guy Taylor Springfield IL 7 3 7 7 408 144
5 Z24 Zach Taylor Springfield IL 7 1 6 7 388 164
6 15C Kevin Crowder Argenta IL 8 0 2 4 354 198
7 8 Brayden Beiler Blue Mound IL 8 0 1 2 322 230
8 24M Matt Milner Chatham IL 5 0 4 5 278 274
9 360 John Seets Brighton IL 5 0 3 4 244 308
10 7B Brian Burns Bethany IL 5 0 0 5 234 318
DIRTcar Hornets
Pos # First Name Last Name City State Races Wins Top 5 Top 10 Points Gap
1 95Q Tristin Quinlan Decatur IL 8 2 8 8 454 0
2 357 Billy Mason Brownstown IL 8 3 7 8 450 4
3 7 John Bright Long Creek IL 8 0 4 8 414 40
4 10 Colin Reed Decatur IL 8 0 2 7 362 92
5 37 Lukas Robison Sullivan IL 5 0 2 4 240 214
6 20B Bridget Fulton Marissa IL 5 0 2 4 236 218
7 98 Ken Reed Decatur IL 5 0 0 3 220 234
8 13G Gage Rusher Stonington IL 4 0 1 3 188 266
9 41 Jaekob Durbin Ramsey IL 3 0 2 3 160 294
10 37M Cole Martz Findlay IL 4 0 1 2 154 300
---
Submitted By: Adam Mackey
Back to News